"ADDRESSING THE GENDER GAP IN NORTH-WEST TUNISIA": WOMEN BENEFIT FROM GENDER CONCERNS INTERNATIONAL'S INITIATIVE
A Multi-Stakeholder Conference-Tunisia
"ADDRESSING THE GENDER GAP IN NORTH-WEST TUNISIA": WOMEN BENEFIT FROM GENDER CONCERNS INTERNATIONAL'S INITIATIVE.
Tunis, 24 July,
Ms. Sabra Bano, director Gender Concerns International expressed her gratitude to the Ministries of Agriculture and Women and Family in Tunisia for their support to women`s economic empowerment in North-West region in Tunisia. She was addressing a conference jointly organized by partner organisation ATFD and Gender Concerns International Tunisia. She congratulated project team that has reached out to a target number of beneficiaries in the region and the other stakeholders in concerned national institutions and the media. A large number of activists including women from the region attended a two days consultation strategising on continuation and sustainability of the program.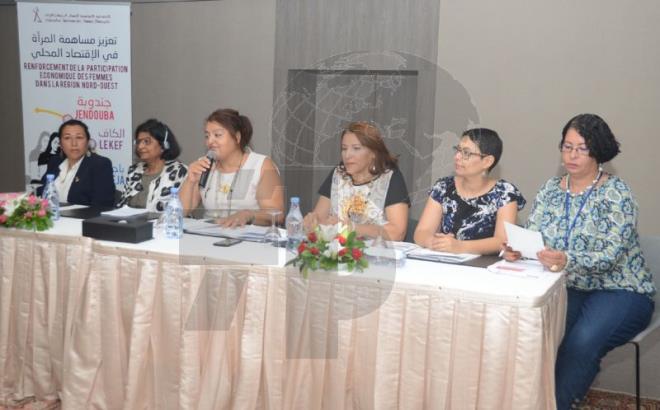 The project, "Enhancing Women's Economic Participation: Addressing the Gender-Gap in North-West Tunisia" targeted the economic empowerment and financial independence of local women in the face of their future as job-seekers and entrepreneurs and was supported by the Dutch Embassy in Tunisia. Together with Association Tunisienne des Femmes Democrates, Gender Concerns International contributed to the organization of Guidance and Information Workshops, Awareness-Raising Campaigns and a Multi-Stakeholder Conference engaging key stakeholders and the national media.
Gender Concerns International is committed to support women and women`s organisations in Tunisia to strengthen economic empowerment, inclusive political participation and better services delivery to the community and it will continue supporting Tunisian women in their quest for an inclusive and gender-sensitive future in the region.
For more info please see: Us and ATFD