The Hague Youth Council for a United Future successfully promotes a positive message for diversity and inclusivity.
The Hague Youth Council has successfully launched its awareness-raising campaign addressing the intersectional issues of Islamophobia, xenophobia and gender inequality in the Netherlands.
The initiative has established a collective youth platform by coalescing a group of ambitious young women to reach out to the wider community in order to galvanise support in favour of a united voice for inclusion.
A roundtable event was organised by the Council with multiple stake holders present from diverse professional and personal backgrounds, including Parliamentarian, Jeroen Recourt, policy discrimination advisor from the Dutch Police, Herman Renes, representative from the hotline Islamophobia and Discrimination, Saida Derrazi, Director of Gender Concerns International, Sabra Bano and two members of the Council. The event addressed the increased sentiments on xenophobia, Islamophobia, and gender inequality in Dutch society.
The culmination of The Hague Youth Council took place on March 9, 2017, where Council Members celebrated International Women's Day by submitting policy recommendations to lobby and advocate the issues raised throughout the program.
The Council concluded that progress on diversity inclusion can be made within the areas of politics, media and education to further enhance inclusivity and parity within Dutch society.
Consolidating a network to tackle the issues of multicultural discrimination is pivotal. The program participants have expressed the imperative need for such platforms to be established and continued to enable sustainable dialogue on the discriminatory and intertwined issues of Islamophobia, xenophobia and gender inequality. Such issues are applicable to a European context. The organisation is eager to continue its support of The Hague Youth Council program for sustainable development by continuing the initiative and expanding its network within a European context.
The Hague Youth Council is facilitated by Gender Concerns International with support from European Network Against Racism (ENAR) and Open Society Foundation.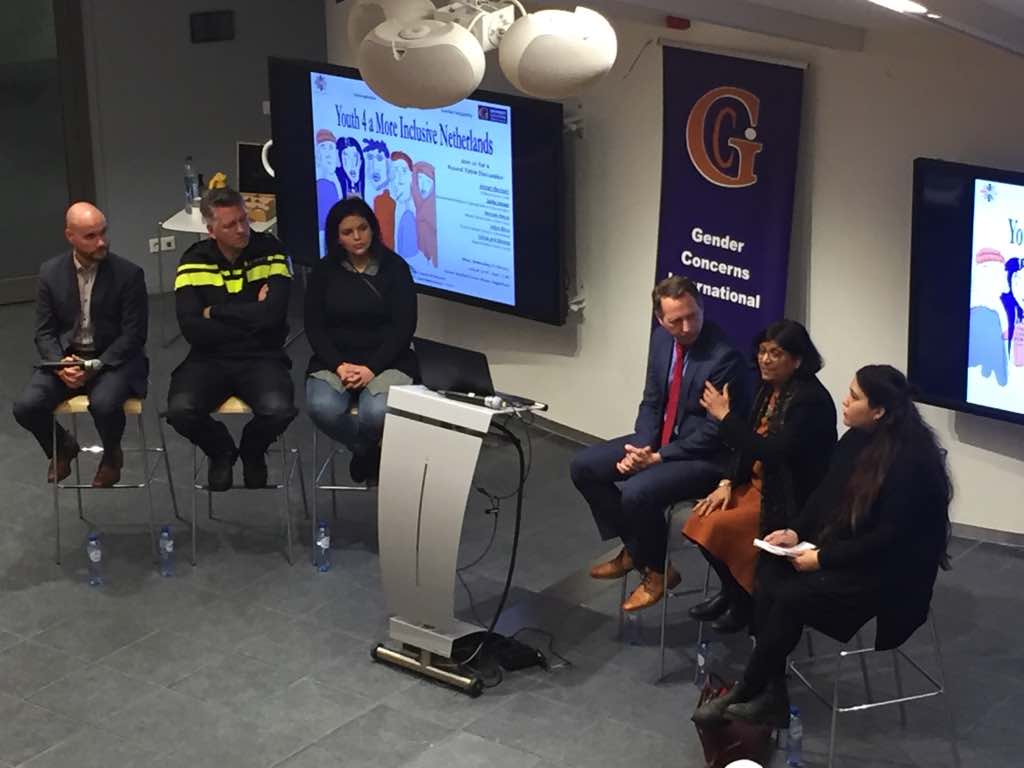 Round-table discussion held on 15thFebruary at The Hague University of Applied Sciences. The panellists from left-to-right: Jasper van Koppen, Herman Renes, Saida Derrazi, Jeroen Recourt, Sabra Bano and Simone Aumaj.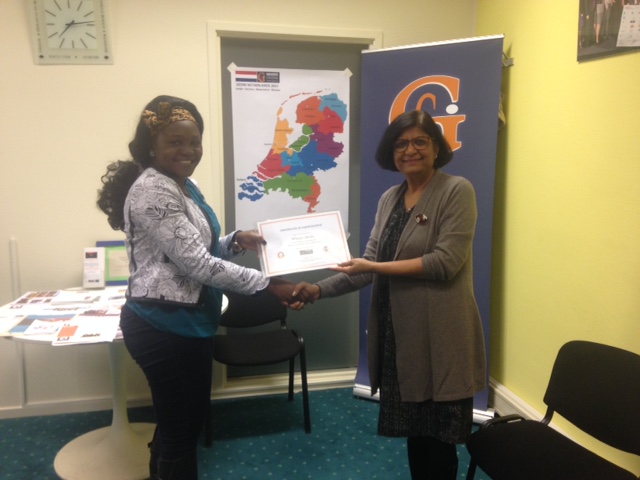 On March 9, 2017, for the concluding discussion, all Council Members receive a certificate of participation from Sabra Bano, Director of Gender Concerns International.