​H.E. Ambassador Jurgens as the Guest of Honor at High Level Consultation
On 22nd August 2016, Gender Concerns facilitated a high level consultation with Women's Organisations in Myanmar. The event took place at the Best Western Green Hill Hotel in Yangon. Gender Concerns was honoured that the First Resident Ambassador of the Kingdom of the Netherlands to Myanmar, H.E. Wouter Jurgens, attended the event as the Guest of Honour. H.E. Wouter Jurgens commended the work of Gender Concerns International in Myanmar and emphasised the importance of active engagement by Women's Organisations in the post-election phase.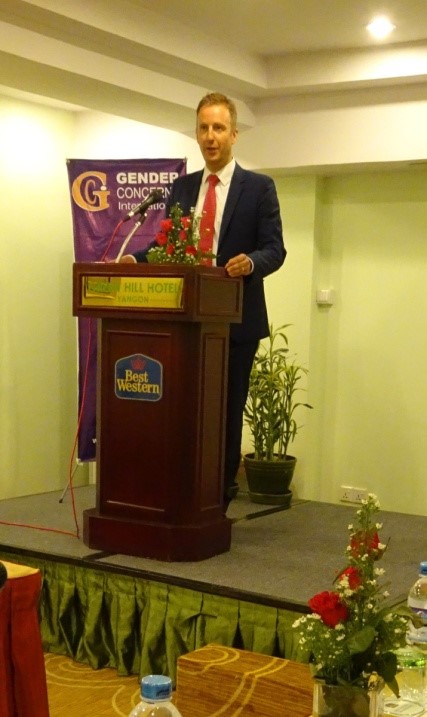 Guest of Honor, Ambassador of the Kingdom of the Netherlands, H.E. Wouter Jurgens addressing the meeting
The participants were pleased with the event and the religious and ethnic diversity of the participants. The attending women agreed that regular meetings of Women's Organisations are important to provide women with a platform to discuss a united way forward. Moreover, the participants agreed that Gender Focused Electoral Reform should be a priority. The aim of the consultation was to promote women's free and fair electoral engagement, paving the way for inclusive women's participation throughout the electoral cycle.
Programme Coordinator, Anne Flake, opened the event by welcoming all participants and invited them to give their valuable input. Representatives from leading Women's Organisations and networks attended the consultation, including WON, the Myanmar Institute for Gender Studies and AGIPP. The engaged discussions were led by Daw Khin Ma Ma Myo, a well-respected expert on gender, development and international relations. On the agenda were discussions on the 'Barriers of women organizations to fully participate in electoral process' and the 'Perspectives of women organizations on gender-focused electoral reform'. The event facilitated for Women's Organisations and Female Leaders to develop recommendations and an action plan to guide joint work for gender-focused electoral reform.
The participants of the high level consultation